Few places can rival the spectacular setting of Bull Bay Golf Club, an 18 hole championship course.
Laid out above the rugged coastline on the beautiful holiday island of Anglesey, every tee commands panoramic views over the Isle of Anglesey to the mountains of Snowdonia, or over the Irish Sea to the Isle of Man, or even to the distant hills of the Lake District.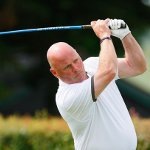 John Burns - PGA Golf Professional
John Burns is our resident PGA Qualified Professional, with a wealth of experience of working at golf clubs up and down the country - from Sandiway in Cheshire to Silloth-on-Solway in Cumbria - before settling down at Bull Bay.
John specializes in the art of club-making using skilled techniques to manufacture and supply all types of clubs - from hickorys and persimmon drivers to modern day clubs. As a Member of the Golf Clubmakers Association all types of custom club making and repairs can be undertaken.
---